MarketPlace 2023

Sustaining traditions & forging the future
February 28 – March 2, 2023, Chicago
The key to innovative baking technology, products and solutions awaits. Claim your Exhibit Hall pass today!
ATTEND MARKETPLACE AT BAKINGTECH 2023 FOR FREE (A $625 VALUE)!
Imagine a single powerhouse event that champions the coming together of commercial baking professionals. Where professionals from a range of disciplines network and gain insight into the increasing confluence of their worlds. Where cutting-edge technology offers new possibilities, improved efficiencies, and better outcomes. Welcome to the Best Week in Baking!
Who can register for a complimentary MarketPlace Exhibit Pass?
Individuals who are currently employed with a baking company and have not attended BakingTECH since 2018.
What does the MarketPlace Exhibit Pass Include?
Access to 130+ exhibitors showcasing their products, technologies and solutions during MarketPlace

Tuesday, February 28  3:15pm – 5:15pm
Wednesday, March 1  3:15pm – 5:15pm

BreadTalk Stage – Visit the BreadTalk stage for these "Ted Talk" style presentations and hear presentations on valuable innovations and solutions

MarketPlace Networking reception held during MarketPlace on Wednesday, March 1

MarketPlace Casino Night on Thursday, March 2
Chance to win prizes in the MarketPlace – THE PRIZE DRAW (must be present to win, drawings and prize winner announcements during MarketPlace Casino Night)
How do I register?
All MarketPlace Exhibit Hall Pass registrations are completed online and this may be done by clicking on the below button.  To obtain the complimentary exhibit hall pass, you must enter the discount code you received from an exhibiting partner or direct mailer in the shopping cart.
Is there a deadline to register?
Yes. MarketPlace Exhibit Hall Pass registration will close February 17.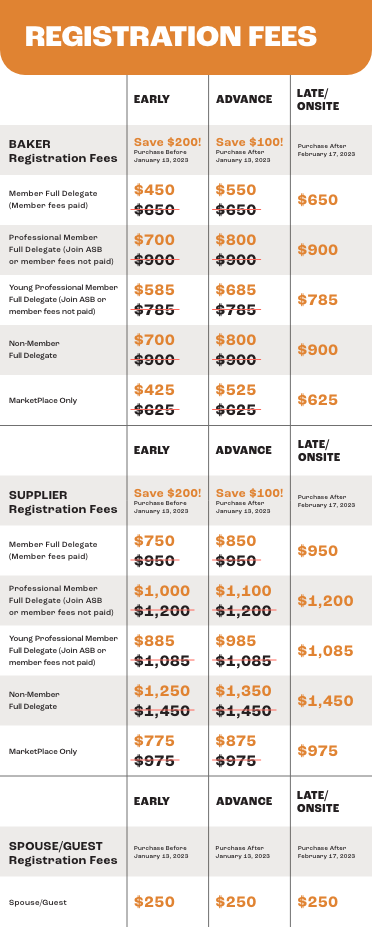 WORRY-FREE REGISTRATION
The Society is continuing our "Worry Free Registration" for all registrants for BakingTECH 2023.  You may cancel your registration for BakingTECH 2023 at any time, for any reason, right up to the day before the meeting.  We will provide you a full refund of your registration fee.  All cancellation requests must be submitted in writing to [email protected] by 11:59 pm CT February 27, 2023.  Refunds will not be granted after February 27, 2023, nor will they be given for no-shows or Society membership fees.
Please note that this cancellation policy is subject to change, so book now to secure your worry-free registration.  The worry-free registration/cancellation policy does not cover hotel reservations.  Please be mindful of the Hilton Chicago's cancellation dates and policies.
STUDENT REGISTRATION
Students who are enrolled in the following academic programs will receive complimentary registration:
Bakery Science & Management
Food Science & Technology
Culinary Arts
Engineering
Students seeking complimentary registration will be required to have an academic advisor or department head confirm their enrollment in the respective programs.
All other students will be required to pay a registration fee of $150.
To register, students may download the student registration form.
SPOUSES
Spouses can register for BakingTECH at the spouse rate of $250.  This badge entitles spouses to attend all educational sessions, the Spouse Welcome Hospitality on Tuesday, Wednesday's Hall of Fame lunch, Opening Reception on Tuesday and the spouse tour on Thursday.
Spouses registering at the spouse rate MUST NOT be employed with a company in the commercial baking industry.  Individuals employed with a company in the baking industry must register at the appropriate DELEGATE registration rate.  If registering spouse is found to be an employee of a company in the commercial baking industry, you will be required to register at the appropriate DELEGATE registration rate.
Planning Committee