CARMEL, Ind., August 21, 2023 –
ASB Focuses on Workforce Training & Development
Sarah Day joins the ASB staff as Director of Education focusing on ASB's strategic vision to deliver training, development, and educational resources to its growing membership and the commercial baking industry at-large.  
The ASB Board of Directors approved its 2023-2024 Business Plan with workforce training and education as one of its five areas of focus. The plan addresses improved communication, enhanced governance and transparency, as well as new programs, but education is identified consistently as a top priority.  
"Sarah's specialized experience in curriculum development and design presents the right mix of skills we need to help us advance our strategic educational goals for ASB members," says Kristen L. Spriggs, ASB Executive Director. "Not only will she help members with training needs for workforce development, but she's experienced in creating a program of standards-aligned curricula tailored to organization-wide strategic goals." ASB is the secretariat for the ANSI-accredited Z50.1 and Z50.2 Safety and Sanitation Standards in the baking industry and provides association management support to the Bakery Equipment Assessment Group (BEAG), formerly known as BISSC.  
Most recently Sarah was a training and accessibility consultant where she created educational materials and training experiences on digital accessibility to ensure compliance with section 508 and style standards, utilizing adult learning principles and design theory. She is a frequent speaker on the topic, including her most recent presentation on User Experience and Digital Accessibility. 
Her experience includes serving audiences in both private and public sectors from scientists in the life sciences industry to educators in the K-12 school systems in the U.S. and U.K. Sarah's experience as both a content developer and educator will help lead ASB into the future as we look to utilize ASB's existing technical content and the ANSI-accredited Z50 Standards, for which Sarah will serve as the primary staff liaison to the ASB Standards Committee.  
ASB Education Committee Chairman Ash Gurney recently commented on the strategic focus of developing educational resources for the industry, "We're making strides to invest in education and bring resources to the baking community through collaboration and talent acquisition."  
Last month BAKERpedia announced its intent to donate significant resources to ASB for use in expanding its educational programs for members and the baking community. "We are thankful to Lin Carson and excited about the launch pad the BAKERpedia platform provides us as we continue developing a program to fill the gap in education and resource knowledge for the wholesale bakery industry," remarked Gurney. "We look forward to expanding the platform and utilizing the incredible depth of experience, knowledge, and comradery ASB members hold to commence an educational program linked to the core of our industry."  
To learn more about ASB's initiatives, visit asbe.org. Members may register for the upcoming Member Townhall where details about the Business Plan and ASB's focus on the future will be shared here.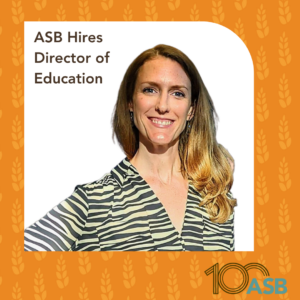 ABOUT ASB 
The American Society of Baking (ASB) is celebrating 100 years of serving the grain-based food industry. For a century, we've fostered a full range of opportunities in continuing education and professional development dedicated to individuals in grain-based foods. Our network of bakers, engineers, service providers, food technologists and equipment/ingredient suppliers has stood the test of time – proving to be an invaluable resource to baked goods manufacturers of all sizes and facilitating growth of our $87-billion-dollar industry. 
Grain-based food production employs more than 330,000 hard-working Americans at more than 10,000 commercial baking facilities and high-volume retail bakeries. That's why we make it our duty to advance baking knowledge and innovation to our members and the industry at large. 
With our members' interest always at heart, ASB is proud to celebrate 100 years of service.  
ASB on the rise. 
ABOUT BEAG 
BEAG is a not-for-profit group that works with bakery equipment manufacturers to assess equipment to determine conformance with the latest American National Standards Institute (ANSI) standard for the hygienic design of bakery equipment. Its mission is to be ceaselessly committed to enhancing clean and efficient equipment design for the baking industry, and provide leadership for the bakery equipment manufacturers. 
BEAG's goal is to have the baking industry and bakery equipment manufacturers adopt the most comprehensive, relevant, and effective standards for the health and well-being of their businesses, customers, and the consumer. 
**** 
For ASB inquiries and member interview requests, please contact: 
Kristen L. Spriggs, CAE, IOM 
Executive Director | American Society of Baking (ASB)