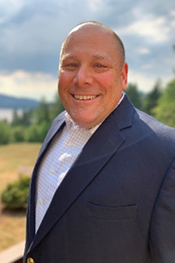 Bill is a 5th generation baker with over 25 years' experience in wholesale baking and ingredient sales and technical service. Bill earned his Bachelor of Science degree in Business and Marketing from the University of Phoenix, and is a graduate of the American Institute of Baking's, Baking Science & Technology course in Manhattan, KS.
Bill has worked with both wholesale baking and ingredient technology companies, serving in career progressions including Sales & Technical Service Manager, District Sales Manager, National Director of Sales and President & COO. Bill has excelled in aligning and implementing business strategies that drive business growth, improve operational efficiencies, increase revenue, and contribute to company market share. Bill is currently the Director of Sales National Accounts for AB Mauri North America.
Bill is actively engaged with various baking industry organizations, currently serving on the Tortilla Industry Association's Education Committee, and is a co-instructor for the TIA North American Hands on Baking Class. Bill is a member of the American Baker's Association FTRAC Committee, and has served multiple terms on the Board of Directors for the American Society of Baking. Bill was the ASB Program Chairman for the 2007 program year, and was elected Chairman of the ASB for the 2018 program year.
Bill and his wife Karen have been married for 22 years and live in Olympia, WA. They have three children; their Daughter Tatum is in her Sr. year of college at The New School in NYC, and their Son's Billy and Brandon are attending college at Eastern WA University in Cheney, WA.
Presentation
A Different Approach to Sugar Reduction in Bakery Products
Wednesday, March 2, 2022
10:25 am – 11:00 am