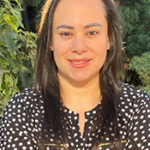 MBA from EGADE and Industrial Engineer specialized in finance. Responsible for all the renewable energy solutions worldwide in Grupo Bimbo, in charge of making sure the company complies with all regulations in energy matters, and of mixing strategies to optimize the use of energy and minimize costs. Eleven years in Grupo Bimbo, and 9 years of experience in Energy, managing the Wind Farm Piedra Larga since 2012, responsible of the Virtual PPA signed by Grupo Bimbo in the United States, the PPAs signed in Chile, Argentina, and Colombia among others, which made the company 85% Renewable by 2021. In 2018 Grupo Bimbo inaugurated Bimbo Solar, which led by her, involved 30MW of solar rooftops in 96 sites, including the largest rooftop in Mexico with 2.2MW, the largest rooftop in Chile with 2.3MW and the largest one in Peru with 1.1MW. She is leading the way for Grupo Bimbo to become 100% Renewable electricity by 2025.
In 2020 she became Global Head of Net Zero Carbon, with the challenge to take Grupo Bimbo to Net Zero Carbon emissions by 2050.
Recognized 3 years in a row as one of the 30 women committed with the environment in Mexico. Panelist and international speaker for Renewable Energy and Net Zero Carbon.
Presentation Information
Resilience to Reach Net Zero Carbon Emissions by 2050: A Process Every Bakery Must Adopt to Thrive
Thursday, March 2, 2023
2:10pm – 2:25pm
Session Information
Closing General Session
Thursday, March 2, 2023
2:00pm – 3:30pm