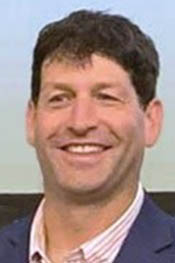 Jeremiah Tilghman serves as General Manager for Canyon Bakehouse (Loveland, CO), owned and operated by Flowers Foods.
A graduate of Kansas State University's Bakery Science Management (operations options), Mr. Tilghman has over 20 years of experience in the baking industry.  During his career, Jeremiah has held multiple positions with increased responsibilities within the major wholesale bakeries in the US including George Weston Bakeries, Bimbo Bakeries and more recently Canyon Bakehouse part of Flowers Foods.  He has had the opportunity to be directly involved in two plant start ups – one green field, one brown field – and indirectly involved in four additional plant start ups
Jeremiah serves on the Board of Directors for ASB and is also involved with ABA and BEMA.
Session Information
Engineering Ask-the-Expert Lunch and Learn Session 2: Ovens & Spraying Technology
Wednesday, February 17, 2021
12:00 pm – 12:35 pm CT
Baker Braindates Session 1
Thursday, February 18, 2021
11:00 am – 12:00 pm CT