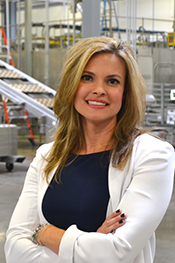 Kristy is the President and Fourth Generation owner of the Mile Hi Companies based in Denver, Colorado. The Companies include Mile Hi Foods, a consolidated food distribution company servicing over 450 McDonald's restaurants and Mile Hi Bakery which is a high-speed LEAD gold certified bakery of buns and English muffins for McDonalds, Chic -Fil -A, In N Out and other similar, restaurant groups.
Utilizing her experience as a 4th Generation owner, Kristy began working with other family businesses to help guide them through the many unique challenges that multi-generational businesses face. Kristy's focus is to inspire leaders in their organizations to fully understand the part they play within the family unit and business while deciphering the value each family member brings to the organization. Kristy also has a passion for fostering the entrepreneurial spirit and supporting a DE&I culture. She has expertise in generational transitions, succession planning, strategic growth, M&A and navigating family dynamics.
The Mile Hi Companies continue to be ranked among the Top Ten Family-Owned Businesses in Colorado by ColoradoBiz Magazine. She holds a BA in Business from the University of Denver and received her executive coaching certification through the Coaches Training Institute (CTI).
Presentation
Young Professionals Educational Session – Women in Baking Panel
Tuesday, March 1
2:00 pm – 3:00 pm