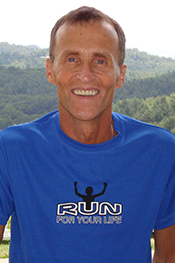 The ATBI Early Bird Breakfast will feature speaker Dick Beardsley who is one of the world's most extraordinary, well respected, and compelling motivational / inspirational keynote speakers.  Dick's inspirational international best selling autobiography Staying the Course, A Runners Toughest Race and the subject of the best selling book Duel in the Sun:  The Story of Alberto Salazar, Dick Beardsley, and America's Greatest Marathon.  
​
Dick has been the  keynote speaker at Fortune 500 companies, non-profit organizations, conferences, conventions, corporate events, fundraisers, galas, sporting events, prisons, schools and drug treatment centers, to name a few.  Anywhere motivation, inspiration and hope is needed.  Dick has spoken to countless number of groups all over the world, ranging in size from 5 people to 15,000 people.
He has a gift of making people laugh, cry and most importantly, think and appreciate life to the fullest, despite any ups and downs that may come along. Your clients will be walked through his exciting highs and his dark valley of despair and through the anguish to that great light of hope and redemption.  Dick's talks are directly from his heart and are highly inspirational. 
One of Dick's greatest strengths is his ability to look on the positive side of life.  It has allowed him to overcome multitudes of personal tragedy and helped him become the person he is today.  Dick is a great source of inspiration to all of those who hear him speak.  
With perseverance and courage, your clients will know they can take the next step when they don't think that they can or have it in them.  They will leave with the ability to believe in themselves and embrace life's challenges, not matter how daunting.  They will leave inspired and full of hope.  He will bring your listeners to laughter, tears, the pinnacle, the bottom, and back up again.   Dick can communicate to your audience on what it takes to become world class.
For a brief moment in the early '80s Dick Beardsley became the most famous runner / athlete in the world – by losing a race. In the 1982 Boston Marathon, Beardsley, foiled by a motorcycle that cut him off near the end, finished two seconds behind Alberto Salazar in a contest often called one of the most memorable in marathon history. It was the closest finish ever at the world's premier marathon, and both runners broke the course and the American records.
Presentation
ATBI Early Bird Breakfast
Thursday, March 2, 2023
7:30am – 9:00am