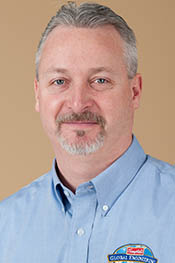 Jeffrey (Jeff) has 26 years of experience in the baking industry. His first position was with Bestfoods Baking in their Management Development Program.
In 2007 Jeff joined Pepperidge Farm as Project Engineer, managing projects across Cookie and Bread operations. Jeff has worked up to Associate Director of Engineering and has project and capital management responsibilities. The bakery division grew with the acquisition of the Snyder Lance Company and formation of Campbell Snacks, for which Jeff also represents engineering for all new product development projects.
A Graduate of Penn State with BS-Industrial Engineering, Jeff holds an MBA from UConn and completed the resident Master Baker course at AIB.
Session Information
Engineering Ask-the-Expert Lunch and Learn Session 1: Ingredient Handling/Mixing
Tuesday, February 16, 2021
12:15 pm CT – 12:50 pm CT