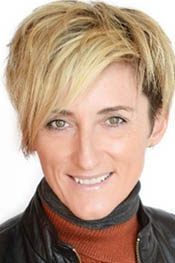 Audrey is a senior executive in the food industry who specializes in business transformation with particular expertise in operations and culture development. She combines her educational background in Nutritional Sciences (B.Sc. McGill University) and Biological Engineering (B.Eng. Dalhousie University), with over 20 years experience working throughout the USA and Canada, across all stages of food operations from ingredient production to finished product manufacturing.
She is an energizing change leader who has earned a reputation for quickly identifying critical opportunities and strategic approaches that maximize goal attainment and team development. Audrey has a passion for the baking industry, where her career began and evolved through a variety of leadership roles. Her desire to provide the highest quality products to consumers and their families drives her affinity to champion food safety and continuous improvement (LEAN) throughout the organization.
Audrey is a bilingual (English/French), Canadian-born resident of Arizona; a wellness and conscious leadership enthusiast, and foodie who loves cooking and baking for her husband and four children.
Session Information
ABA Presidents' Panel: Beyond Covid, View from the C-Suite
Thursday, February 18, 2021
12:45 pm – 1:45 pm CT