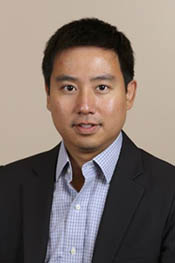 Tyson Yu is Chief Executive Officer of ARYZTA North America and a member of the ARYZTA AG Global Executive Management team.
ARYZTA North America is a leading player in the frozen business-to-business bakery markets in the United States and Canada. It has a diversified customer base, including retail, restaurants, catering, hotels, leisure, hospitals, military, fundraising, and QSRs. ARYZTA North America's brands include La Brea Bakery, a leader in high-value artisan breads; Otis Spunkmeyer, the #1 foodservice cookie; and Oakrun Farm Bakery, a leading English Muffin brand in Canada.
Since joining Fresh Start Bakeries in 2009 (acquired by ARYZTA in 2010), Yu has held numerous executive roles including President of ARYZTA's Canadian business unit; Senior Vice President of Business Development for ARYZTA Canada; and Vice President of Global Strategy and Business Transformation.
Previous to becoming CEO in February 2020, Yu was Chief Operations Officer, where he oversaw all operations for ARYZTA's North American business including bakery manufacturing and supply chain, engineering, logistics, planning, customer service, quality assurance, and corporate development.
Prior to working in the food industry, Tyson worked at Lindsay Goldberg, a private equity investment fund and at Merrill Lynch in its Investment Banking Division, focusing on food and beverage.
Yu holds a Bachelor of Science degree in Mathematics and Economics from Georgetown University. He resides in Los Angeles, California, with his wife, Christine.
Session Information
ABA Presidents' Panel: Beyond Covid, View from the C-Suite
Thursday, February 18, 2021
12:45 pm – 1:45 pm CT