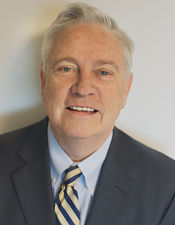 James McCarthy
North American Millers

'

 Association
Jim became NAMA's President in 2013, prior to joining NAMA he served as the President and CEO of the Snack Food Association (SFA) for fourteen years. Before joining SFA, he was Director of Government Affairs for the National Food Processors Association, Government Relations Assistant for Hershey Foods Corporation and as a Legislative Correspondent for the United States Senate Subcommittee on Federal Spending Practices.  He is a member of the U.S. Chamber of Commerce's Committee of 100 trade association presidents, the American Society of Association Executives Association's Key Industry Association Committee and was named among the "Top Most Influential Trade Association CEOs" by the Washingtonian Magazine in 2000.
Jim received his Juris Doctor degree from the Columbus School of Law at Catholic University of America in 1989, his Masters of Business Administration from the Kogod School of Business at The American University in 1987 and his Bachelor of Arts degree in Political Science from Boston University in 1979.
Presentation
Flour Food Safety
Tuesday, March 3, 2020
9:30 am – 10:00 am
General Session: Outside the ASB Breadbox