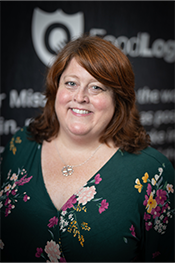 Julie McGill is the Vice President of Supply Chain and Insights at FoodLogiQ, a leading SaaS provider of food safety compliance, traceability, and supply chain transparency solutions. Their solutions help foodservice and grocery trading partners achieve end-to-end traceability while supporting safe and high quality food products across the supply chain.
In her role, Julie works with FoodLogiQ leadership to advise on industry, customer, and product insights to improve market adoption and penetration, customer satisfaction and value generation. She supports FoodLogiQ teams on evolving industry activity including regulatory, standards, traceability and food safety.
Before joining the FoodLogiQ team in May of 2017, Julie spent over 16 years at GS1 US. She led the Foodservice GS1 US Standards Initiative, and on the PCATS initiative with NACS, working with industry stakeholders in the convenience retail space. Julie also worked for Transora, which was one of the first GDSN data pools.
She also worked for Coors Brewing Company in Golden, Colorado, supporting their Store Level Data program, engaging their distributor network to implement EDI with convenience and grocery retailers.
Julie serves as co-chair of the PTI Technology Workgroup, and sits on other various industry workgroups covering topics from AIDC, food safety, traceability, transparency, and supply chain efficiencies.
Presentation
Technology/Food Safety: Food Safety, Traceability Record-keeping and Digitized Supply Chains:  Preparing for a New Era in Baking
Wednesday, February 17
1:40 pm – 2:15 pm CT